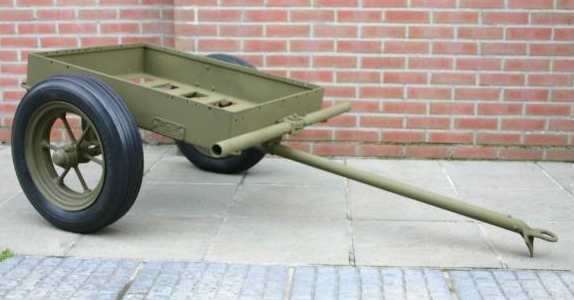 Restoration Completed, August 2006
This cart, fitted with a M1919A4 Machine Gun, was offered on eBay in April 2004. Since I had doubts about the brackets holding the gun and it would have been impossible to ship the gun to Europe; I made a deal without the gun. The cart was sent to a friend in Pennsylvania and it arrived in Belgium in January 2005. It was completely disassembled.
Restoration work started in the spring of 2005 after looking at many carts in other collections and gathering as much information as I could find. After asking around on the G503 Forum, Rick Larson sent me a copy of Manual ORD9-SNL A-42, dated 1 June 1945 which I could not have done without!

eBay Auction Photo

This is how it was advertised on eBay.
The cart had postwar tractor tread tires and a reproduction towbar.
I have yet to see evidence of WW2 use of those M2 Tripod brackets, and they were not included in the deal.
Most parts were in good condition and almost everything except for the towbar and tires seemed original. Original tow bars are nearly always missing. The tires were US Made and although the correct 4.00-12 size, they were eventually replaced with an original set...
Another eBay auction provided some nice original parts to replace the few incorrect or missing ones.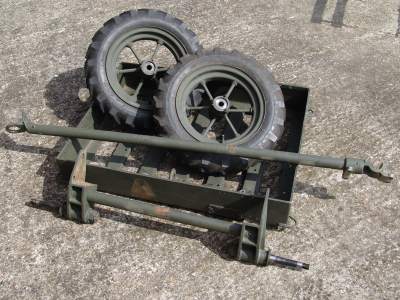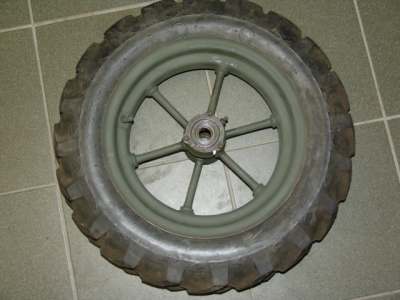 The cart had been restored before and painted a green 'MD Juan' like color. Closer examination revealed original lusterless Olive Drab over Red Oxide Primer.
Note the tooling mark on the body. These marks are found all around the body panel at regular intervals.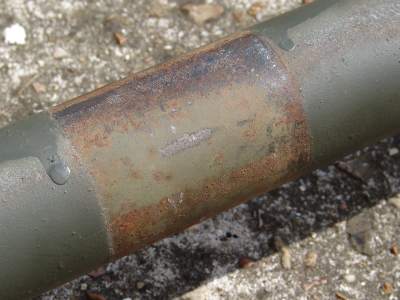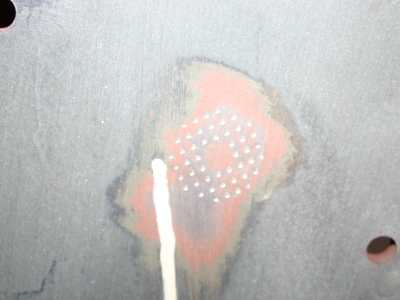 Further paint stripping uncovered another interesting detail. A lot of the hand cart parts have the part number either cast or stamped into the part itself. Furthermore, on carts made by the John Wood Mfg Co; the initials 'JW' are included in these markings.
Left is the Tongue Clamp (Part N°A159752 JW) and right is the Left Axle Bracket with Part N° C67112 cast into the part.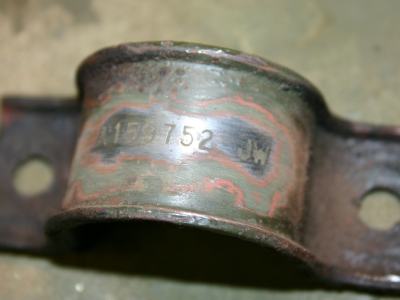 More original OD paint over Red Oxide Primer was found inside the hubcap. The Part N° A164570 is barely visible on the outside of the cap.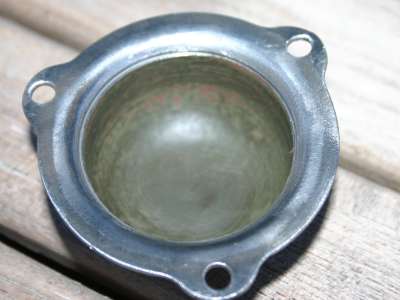 All carts share the same body and all have dozens of holes in the body to mount brackets and parts. After comparing with several other carts, I noticed this cart was missing two holes. Further body work showed these had been welded shut, so they were re-drilled. Some major damage to the back of the box was repaired and finished off with a minimal amount of body filler.
The wire loops on each corner of the body are clearly visible.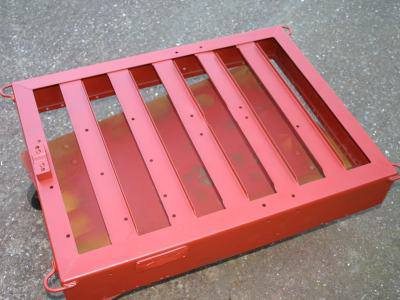 Part N° B154016 is the Drawbar Bracket used to secure the tow bar on the front of the body, when it's not in use. This bracket is riveted on the main body. On this cart, somehow it was bolted and I was determined to replace those 'ugly' bolts with correct looking rivets. Those countersunk head rivets turned out extremely hard to locate and I ended up using heavy duty truck brake lining rivets that fitted just perfect! Note the hole in the bracket going all the way through the front of the box, allowing various brackets to be bolted onto the cart.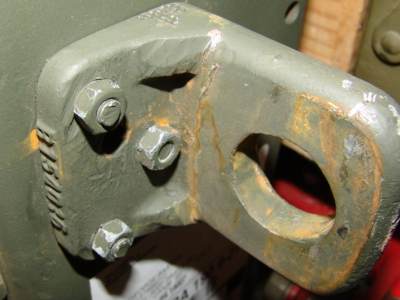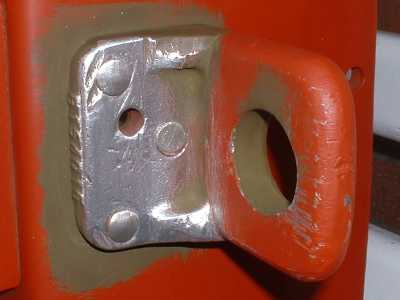 The nuts and bolts used on these carts are rather special and are extremely hard to find nowadays. Bolts are 5/16-24 NF Thread and nuts are a special castle-type safety nut. Other nuts on the cart are some kind of fiber locking nuts, pretty much like nylock nuts, but with more primitive locking inserts, which had been present for many years and appeared original. These special nuts have been observed on other carts too.
All hardware was cleaned, inspected, primed and painted before assembly. A couple of the special bolts were given to me by a French collector and two long bolts holding the bracket towards the front of the box were made out of 9/16" Carriage Bolts as these were missing and unavailable anywhere.
The Axle Adjusting Nuts were cleaned and inspected and turned out OK for further use.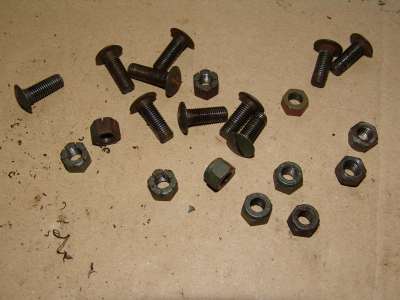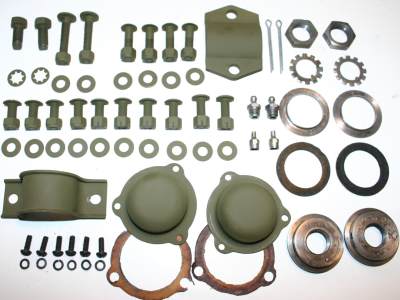 Spring 2006 saw me actually applying OD paint to the main parts of the cart. Paint used was matched to the color on original items in WW2 wrappings and looks perfect! It's absolutely flat, easy to work with and the way it ages is just great. Within a short time it will have that original look!
By now a perfect Tow Bar was located through a friend in England.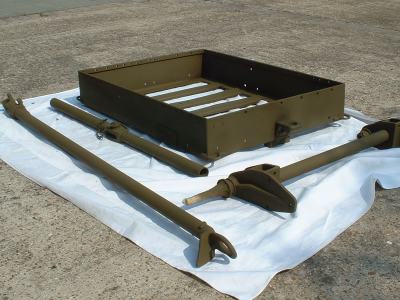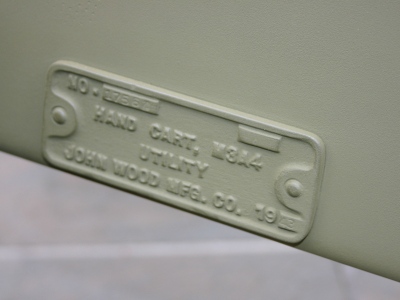 Finding a pair of original tires was extremely difficult. I found one Firestone tire in Normandy in June 2006 but it blew out upon inflating. It was eventually replaced by another I picked up from an American collector. That same summer I located a worn out RL-35A Reel Cart with an original Rib Implement Tire. I acquired it, took the tire off and parted the other parts out to other collectors. Since most of the carts have very bad tires, I consider myself lucky to have found a decent pair.....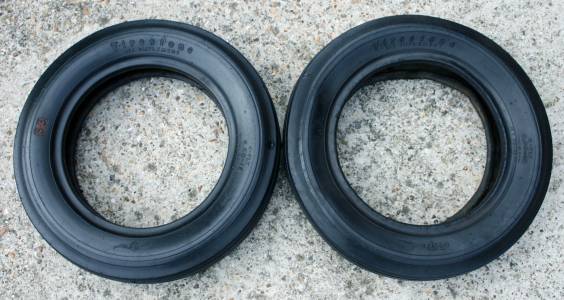 By now it was August 2006 and final assembly could begin.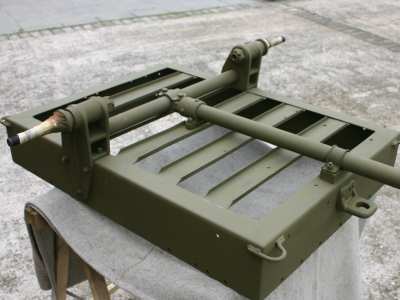 After a final coat of Olive Drab, the wheels were mounted on the spindles. The wheels do not have roller bearings but run on brass bushings and were properly greased and adjusted. The original felt washers and retainers were used. Hub Caps were fitted with nice parkerized Round Head Screws, a beautiful detail.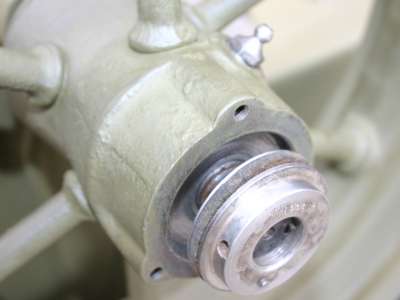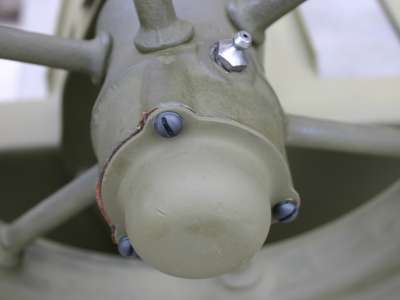 These images give a clear view of the holes in the box, the tires and the 'home-made' bolts and rivets.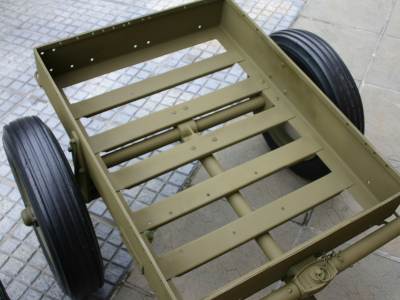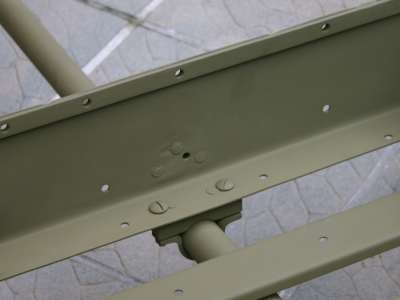 Finished Cart with two Tow Ropes....
All that's left now is to find an original M500 Cover......If someone has one..??...