US Army Bicycles



Iconic US Army bicycles of WW2: 1943 Women's and Men's Westfield Columbia and 1942 Huffman Model

Genuine WW2 US Army bicycles are amongst the rarest of vintage military vehicles around. Sure, you will see a lot of them at shows but when you have a closer look, hardly any of those are real, complete military production bikes. So few of them are left, especially in Europe, that a bicycle with provable World War 2 US Army use and in any condition is truly a very rare and expensive vehicle.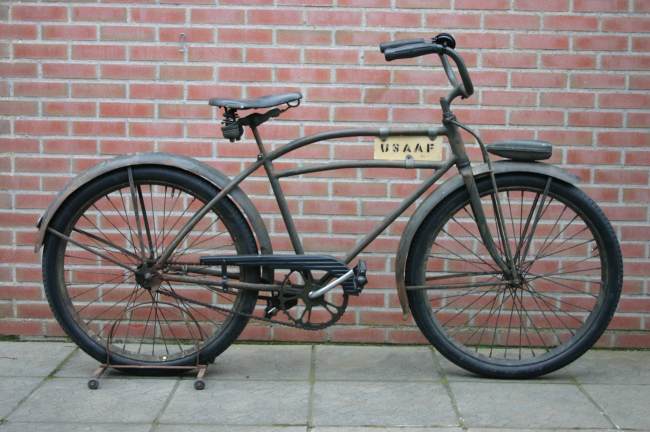 Gustaaf Desmet's very original and desirable Westfield Columbia Serial N° MG99828.
Note the USAAF sign attached to the upper frame tubes....

Although the US Army had used bicycles for many years before WW2, none were really standardized for procurement before 1942. The Army's official use for these bicycles was: 'To provide Transportation for Personnel engaged in Dispatch or Messenger Service'. Of course they were used for many other purposes. They proved a fast and economical way to get around Depots, Camps and Airfields.
The 'Bicycle, Military, Universal' was adopted in 1942 by the Ordnance Department. It was a military version of the Westfield 'Columbia' and was equipped with heavy duty rims and spokes. It came with a D-Cell powered headlight on the front fender and basic tools were carried in a tool bag attached to the Persons saddle. A tire pump was clamped to the frame.
These bikes were manufactured by both Westfield Columbia (Series MF and MG) and Huffman (Model 81) with only minor differences in parts. Huffman fenders were rounded as opposed to gothic ones on the Columbia, chain guards varied and Huffman front sprockets had a unique whirlwind design.... All parts were interchangeable. Early rubber pedal blocks were replaced with wooden ones later in the war. Early frames had a curved front tube but these were replaced with straight tubes on later models. The front fork truss rods were supported by a bracket fixed to the front forks on early Huffmans while Columbias and later Huffmans used a separate support attached between the forks and lower framehead bearing cup.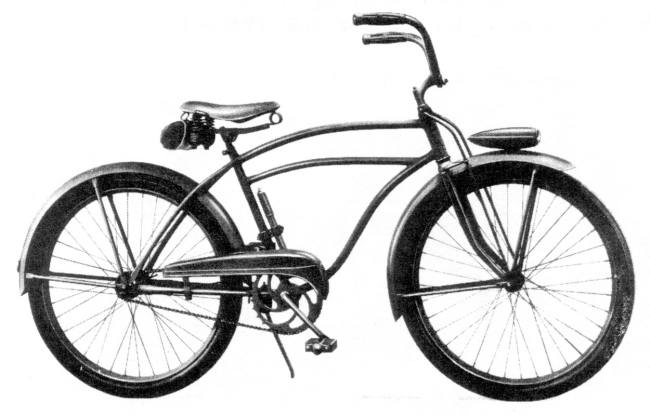 This image from the US Army's WW2 Bicycle's Technical Manual shows a Huffman made bike.
Compare the front sprocket and chain guard to those on the MG above....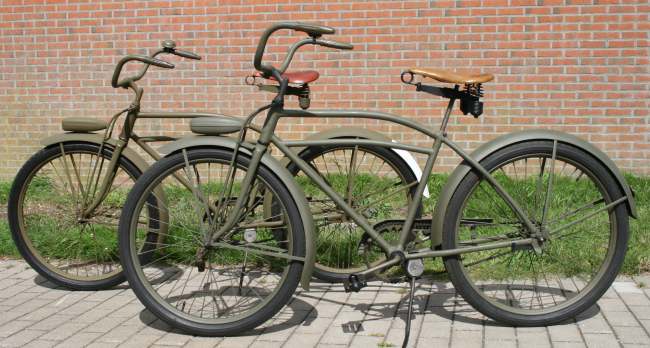 The webmaster's MG138969 (rear) and G. De Groote's MG120037 (front) were both restored as near as possible to perfection. Getting two original US Army bikes together is not an easy task. There are only a handful of these left in Europe!

Late in WW2 Columbia produced a Women's model. Except for the frame, saddle and a smaller front sprocket, all of the parts are identical to the standard Men's type. Huffman did not produce the women's model.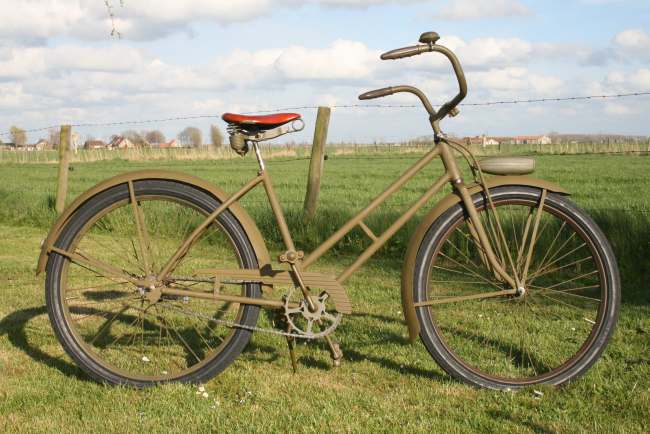 MG140418 Female Model of the Webmaster's collection.

At one point the US Army gave the designation 'M305' to the Men's model and 'M306' to the Women's model. The reason is not clear, nor is the date of introduction of these terms. The 'M' designation is however consistent with the Ordnance Corps nomination system of WW2.
US Army Bicycles in use during WW2.....
'Hawaiian Patrol'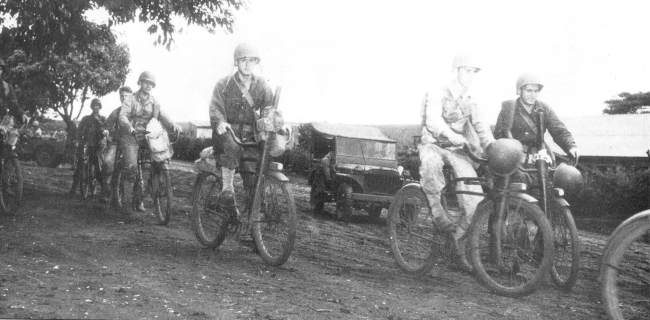 US Army Signal Corps Photo via Jerry Cleveland

Members of the Intelligence Platoon, HQ Company, 34th Infantry Regiment on patrol in Hawaii. Rifles are carried in leather scabbards on the front forks.
Note the Willys MA Jeep in the background...

Private Image via Dave Thomas

'82nd AB Division in Fort Bragg...'

PFC Aaron of the 82nd AB Division Military Police Company
rides a Columbia in Fort Bragg, ca 1942.
Note the sign on the frame which indicates the bicycle belongs
to the 82nd HQ Company.
'Two Army Air Forces Sergeants...'

Two Sergeants of the Army Air Forces....., note the pointed 'Elgin Style' handlebar grips and tool bag attached to the saddle.


US Army Signal Corps Photo via Nelson Dionne Jr

Image from a Private Collection

'Women's Army Corps'

A Pfc of the Women's Army Corps (WAC) on a bike somewhere in the USA during WW2.

The bicycle is the standard Westfield-Columbia Women's model.
The Persons toolbag has been strapped to the handlebars along with a length of chain and a padlock.
The top cover of the Delta Winner headlight is missing and the rear fender carries a marking 'AUTO TEST CO' most probably painted in blue-drab color.

The uniform worn is the standard Women's Wool Service uniform. The insignia sewn to the left shoulder is that of the 'Army Service Forces'.
'Entertaining Children in Wartime Britain'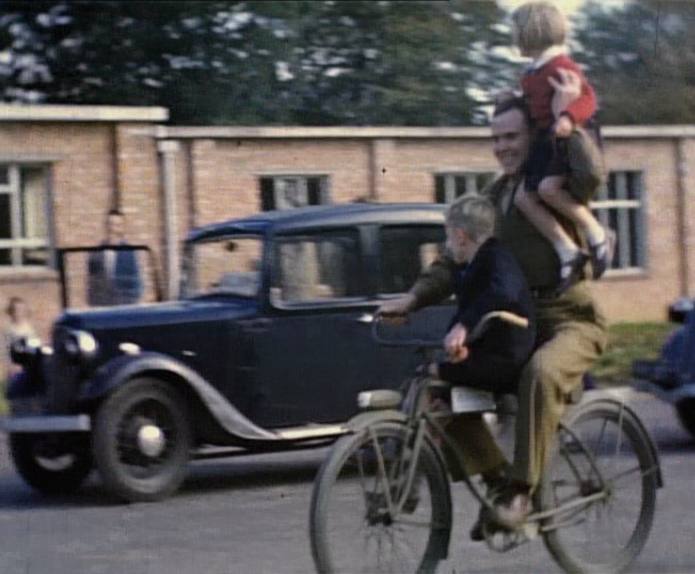 Still from 'Color of War', Carlton DVD
A GI takes two British kids for a ride at a US Camp in Britain in early 1944.
A sign identifying the unit is mounted between the upper frame tubes....

US Army Signal Corps Photo via Jerry Cleveland

'A great way to conserve Gasoline...'

This Lieutenant uses an early Columbia (Note the curved front tube on the frame) to ride around Fort McPherson, Georgia, thus lowering gasoline consumption to zero!!
'A day out in England....'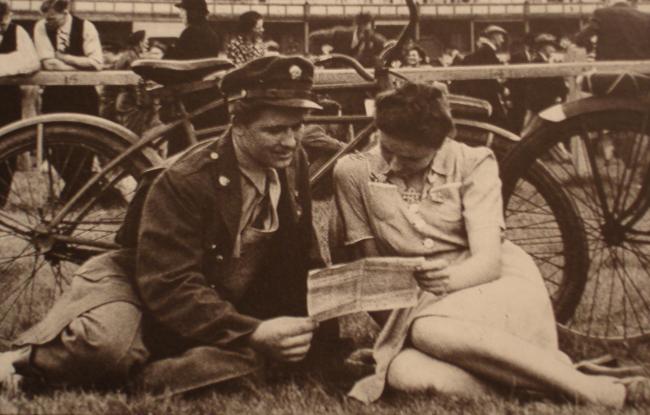 Picture from an unknown source via Pierre Verbreyt

Behind this American Serviceman in England during WW2, two US Army bicycles can be seen. Note the headlight on the right is held together with a wire string or an elastic band, indicating the loss of the thumbscrew which keeps bottom and top of the light together.
The fender of the bike on the right has its tip painted white for more visibility in the British Black-Out...
'Getting back in shape....'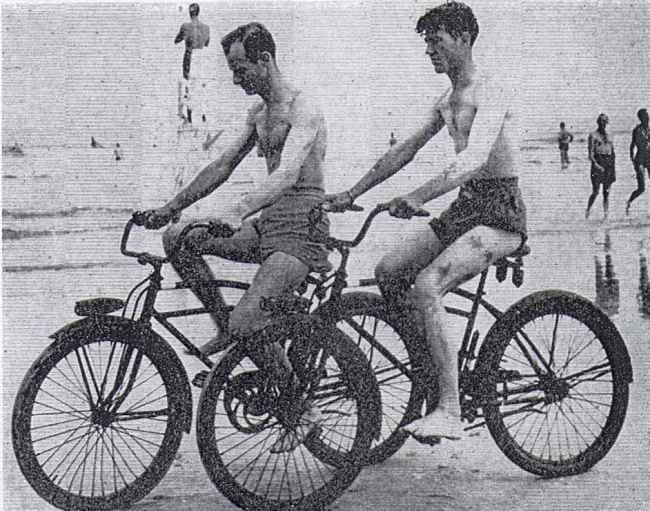 US Army Signal Corps Photo via Gerald Mlynek

Two wounded war veterans from the US Army's Welch Convalescent Hospital are riding Army bicycles as part of their therapy on Florida's Daytona Beach...
Both bikes appear to be Huffman models, evidenced by the chain guards....
'The 9th Air Force in France'


US Army Signal Corps Photo
A USAAF Mechanic is working on a P61 'Black Widow' Night Fighter of the 425th Night Fighter Squadron stationed at Vannes, France in October 1944. He left his bicycle on the ground underneath the wing. The close-up below clearly shows it is a standard Men's bicycle.
The chain guard seems to be missing.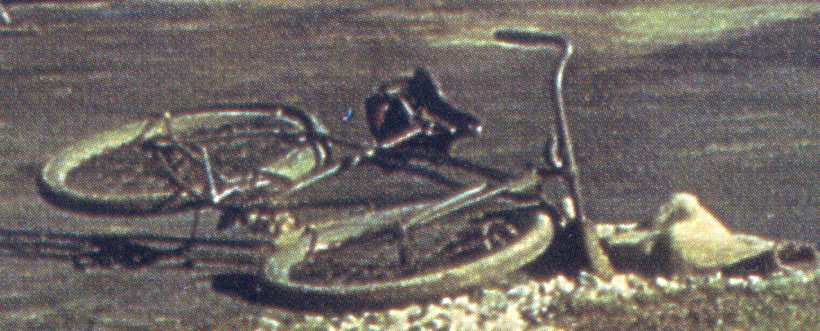 Motorpool Mechanics
These mechanics of HQ/796th Military Police Battalion pose for pictures on two Columbia MG bicycles somewhere in the ETO in 1944-1945.
Note how on one bike the light is missing and on the other there's only one screw left holding the light to the fender.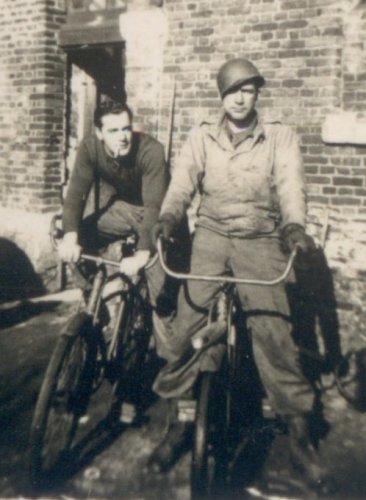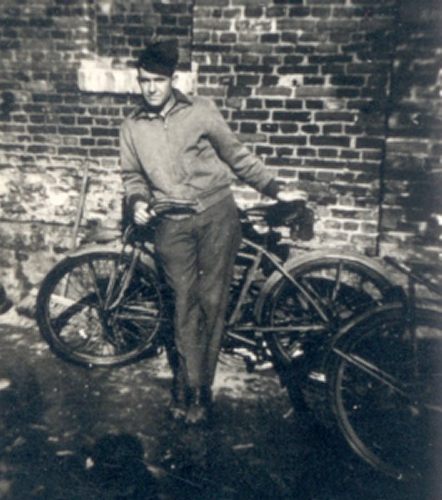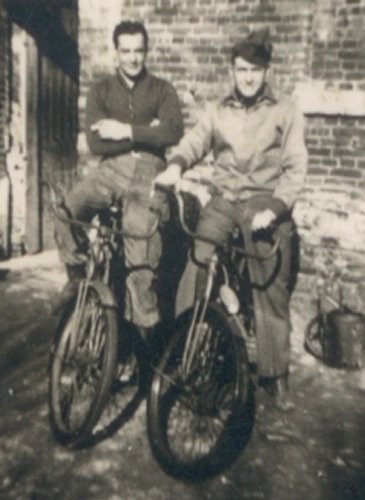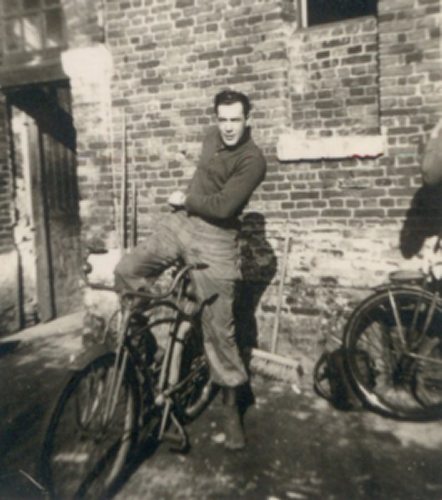 Photos from the Webmaster's Collection
'Riding out...'

Two GIs take their bikes for a ride in occupied Germany at the end of the war in 1945.

Looking at the Gothic style front fenders, both bicycles appear to be Columbia models...


Photo from the Webmaster's Collection
Tools and Accessories
All bikes were delivered with a Woodbridge Brass Co made tire pump clipped to the frame and a toolbag attached to the saddle. The toolbag was made by Persons, which also made the saddles. In the toolbag a Morrow wrench (rear axle brake combination wrench) was carried and riders would often add other tools like screwdrivers etc... SNL G-519 of 1943 only lists the Morrow wrench, but the 1949 edition of SNL G-519 also lists a 5" Auto Wrench and a general bicycle wrench.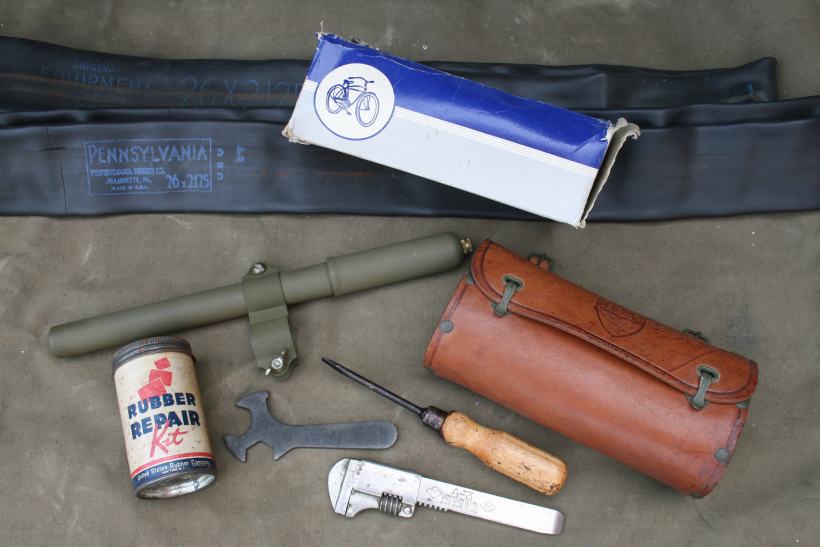 The leather toolbag furnished with the bikes was made by Persons of Massachussets.
Also shown are the tire pump, a Morrow wrench, Screw Driver and general Bicycle wrench along with a period tire repair kit and spare inner tubes.
To secure the bike when left unguarded, many riders carried a bicycle lock or piece of chain with a padlock.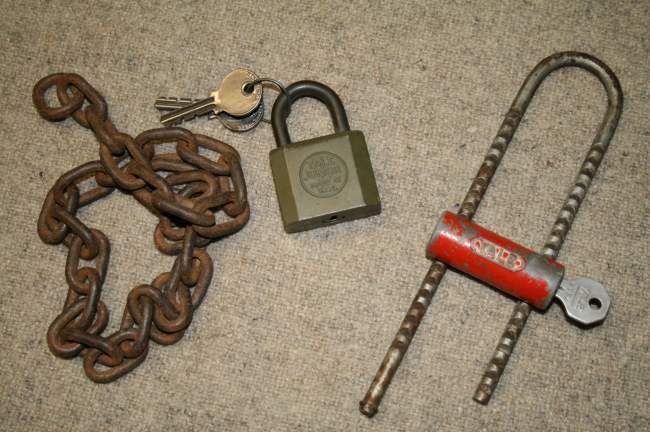 A short length of chain and a YALE made padlock were often used to prevent theft of an unguarded bike. On the right a bicycle lock which locked the wheel to the forks, also made by YALE.
Tires
Tires mounted on the bike were of 26 x 2.125 Size which generally corresponds to modern day Mountain Bike tires. Although most of the tire companies of the period manufactured that size of tire (Good-Year, Firestone, BF Goodrich, etc..) it seems US Royal Master Tires were most commonly used. The US Rubber Company's Chain thread, known as US Royal Chain, may also have been used. Tubes were off the shelf, as were the Schrader valve cores and caps.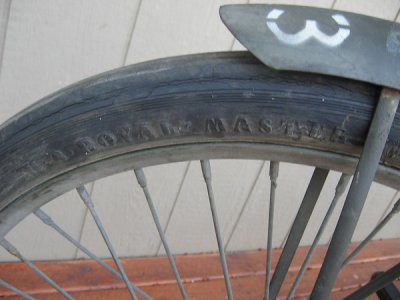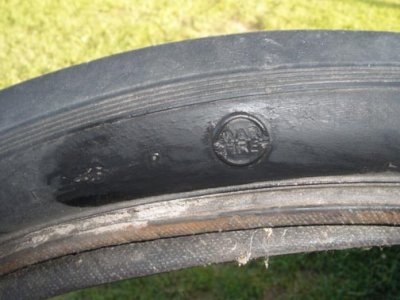 Markings of original 'US ROYAL MASTER' tires, note the marking 'WAR TIRE'
Tires are from the Craig Johnson Collection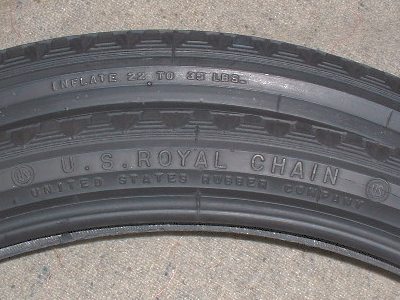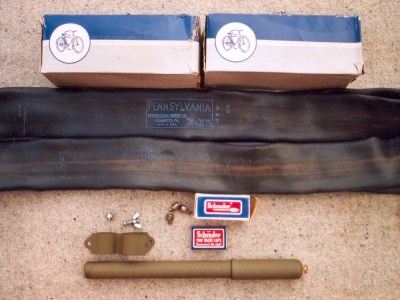 Left: 'US ROYAL CHAIN' Markings on original tires
Right: Original tubes, Valve Caps and Cores and tire pump issued with each bike.
Manuals
WW2 US Army manuals issued with the bicycles were TM (Technical Manual) 10-1481 which described maintenance and parts, and SNL (Standard Nomenclature List) G-519 listing all parts.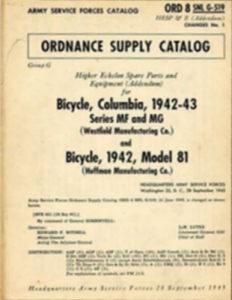 Paint color
Like all other equipment of the US Army during WW2, bicycles were painted flat OD (QM Specification ES-N°474, Enamel, Synthetic, olive drab, lusterless flat). Although some unissued parts have been found in a darker Olive Drab, the NOS unissued items shown below cleary illustrate what color the parts were delivered in.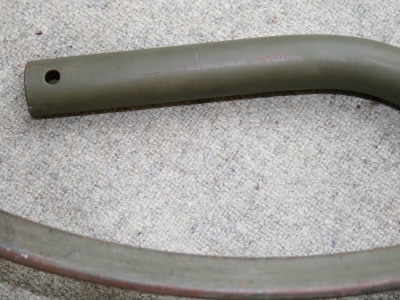 The flat OD color on the NOS Handlebars, tire rim and headlight is shown on these pictures.
The handlebars are marked 'Torrington'. Torrington also manufactured the pedals.
The headlight was made by Delta and is marked on the underside, contrary to civilian models which were marked on the top.
The headlight is from the G. Desmet Collection.
How to identify a correct WW2 US Army Bicycle.....
Genuine US Army bicycles are quite difficult to identify since they were based on existing models readily available from civilian shops. Most bicycles you see today are assembled on civilian frames painted olive drab!!... Original WW2 military bikes are extremely rare and if you come across one, it is highly likely it has been restored with non-military parts. The only way to distinguish a real military bicycle from a civilian model is by looking at the number located on the frame underneath the front crank set.... Frame numbers were hand stamped during WW2 and should not be aligned....
Columbia wartime Army bicycles have Serial Numbers starting with either 'MF' or 'MG' and are dated through a code consisting of a letter indicating the year and a number indicating the month of production stamped above the frame number. Huffman made bikes are dated with the year of manufacture near the Serial Number which starts with a letter ('D' and 'H' have been observed) followed by a number. Another date code is found on the back of Huffman front forks (two numbers indicating month and year of production e.g. 12 is January 1942).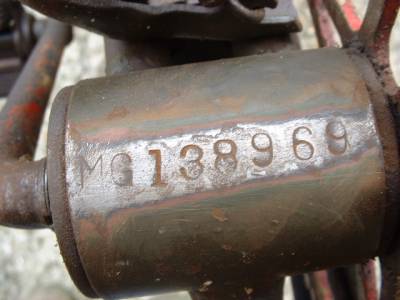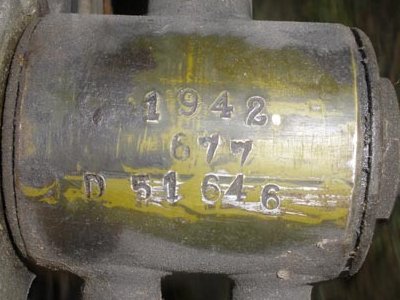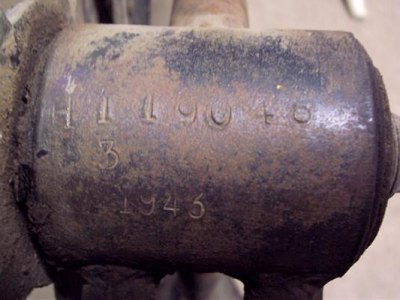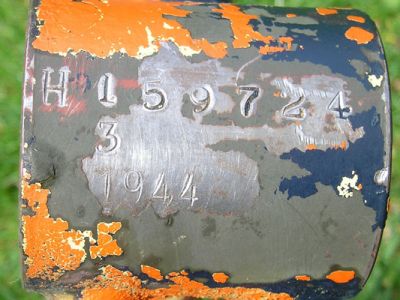 Serial Numbers on Columbia (top left) and Huffman (top right and lower pictures)
Note the difference in markings between the two brands and the year of manufacture stamped either above or below
the serial number on the Huffman frames
(Huffman Frame images via Craig Johnson, G. Desmet and Rodger Armbrust)
Westfield Columbia also made bicycles with frame numbers preceded by 'MC'. These were made for the US Marine Corps and some might have been sent to China under Lend-Lease Agreements. While the 'MC' Model is very similar to the Army 'MG' bikes, the front fender has no holes for a headlight and the rims are flat and of the bead-lock type fitted with special US Rubber tires. These bicycles are generally encountered with a drop down rear stand.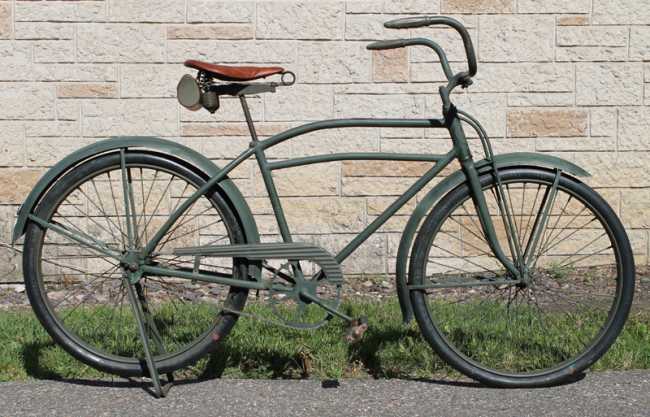 Westfield Columbia Serial N° MC14625A.
The similarities with the MF/MG version are obvious....


Westfield Columbia Serial N° MC14625A
(Bicycle and pictures above from Al berger at www.bergerwerke.com)
Westfield Columbia Front Sprocket Variations...
Usually the front sprocket encountered on Columbia's is a 'Sunburst' style but I have noticed a 'Heart Shape' variation on several bikes.... This odd sprocket was observed on bicycles with Serial Numbers MG134319 (Mark Chapin's Collection), MG138969 (Mine), MG143313 (Alexis Salomé), MG145375 (Airborne Museum, Sainte-Mère-Eglise, France) and on MG145642 (Gustaaf Desmet). Initially when I restored my bicycle, I suspected it wasn't correct for a WW2 specimen, but seeing it on other bicycles and on at least one WW2 period picture leads me to believe that roughly 10.000 of them were in fact manufactured that way....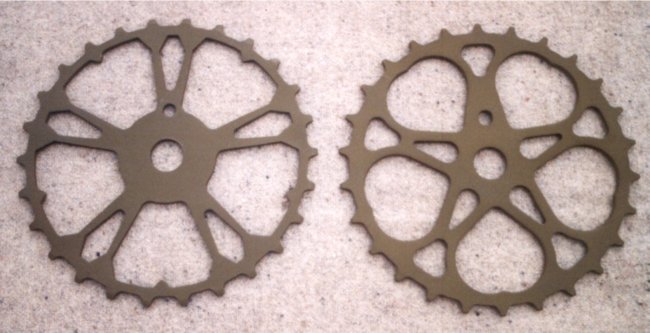 The more common design on the left with the variation encountered on five bicycles on the right.....
A WW2 GI astride a straight tube Columbia MG Model bicycle.

The second pattern (heart shaped) front sprocket is clearly visible and the bike is equipped with a bell and toolbag attached to the saddle.

Location and time of the picture is not known but the soldier wears WW2 style Herringbone Twill uniform with cold weather 'Blucher' boots...


Private photo from the JD Boswell Collection
French Re-enactor Alexis Salomé with Columbia MG143313 in Bethune, France
on September 1st, 2002.

Note the second pattern front sprocket fitted to the bike.

This bike was retrieved from a farmhouse in Northern France several years ago.
US Army Bicycles in Magazines, Advertising and Movies...
The use of bicycles in large numbers by the US Army did not go unnoticed and they were featured in many magazines and advertisements.

Webmaster's Collection via Gerald Mlynek

Two Westfield Columbia adds from 1945 and an add for The Morrow Coaster Brake showing bicycles in military use.
Sgt Bill BRITCH and his bike
The IBT RoundUp newspaper featured an article about this cycling Sgt in their February 14th, 1946 issue...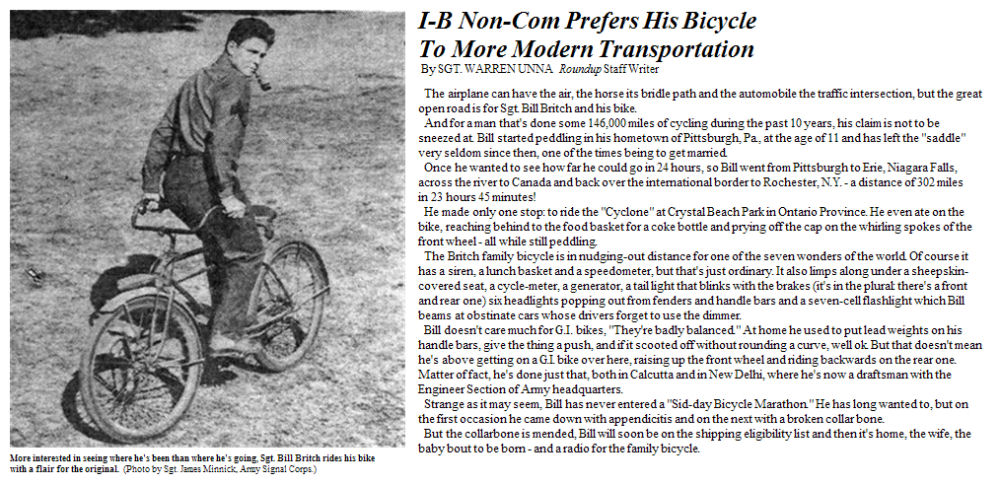 From: RoundUp Vol IV/N°23 (For full version Click Here)
Most war movies use a large number of period vehicles but the use of actual WW2 US Army bicycles seems to be limited to two of them. Both '12 O'clock High' and 'From Here to Eternity' were made in the immediate aftermath of WW2 and had a large number of original props....
'12 O'clock High' featured a rather large number of bikes which are seen ridden by USAAF ground crews in the background of a lot of scenes. In 'From Here to Eternity' the use of a WW2 bike is limited to one scene which shows the details of the bicycle very well...
The 2014 movie, 'The Monuments Men' used a replica US Army bicycle for a short scene in Bruges, Belgium.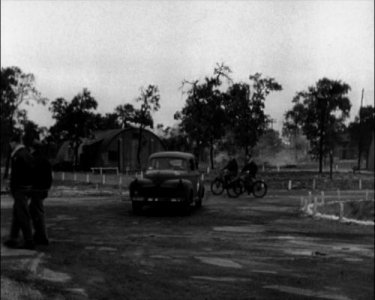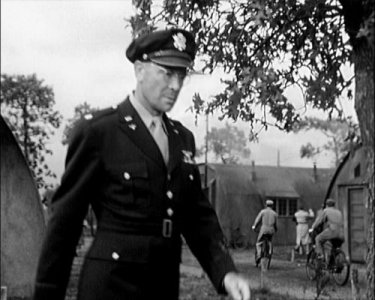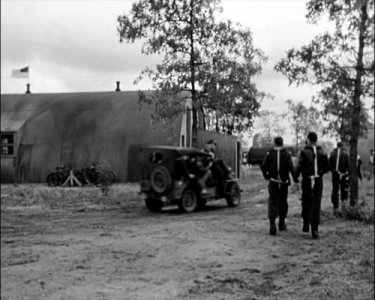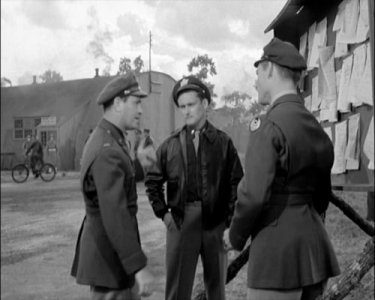 Stills from '12 O'clock High', 20th Century Fox DVD
Original Army bikes as seen in various scenes of '12 O'clock High'.
Over a dozen bikes can be spotted in the movie.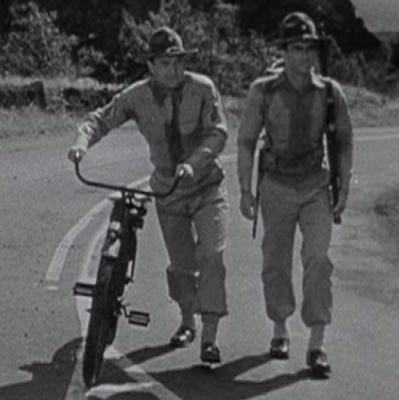 Still from 'From Here to Eternity', Columbia Pictures DVD
One of few original WW2 US Army bicycles shown in a movie was seen in Fred Zinneman's 1953 epic 'From Here to Eternity'.
A Sgt escorts Prewitt on a march after his refusal to enter a boxing contest.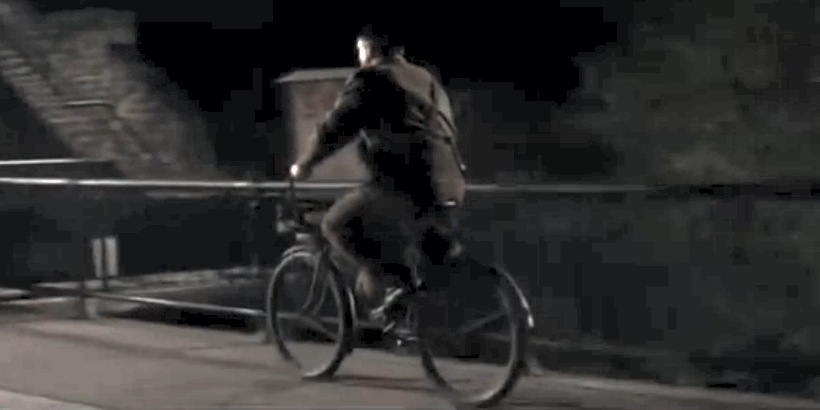 Still from 'The Monuments Men', Columbia Pictures DVD
A G519 biycle replica, made by Al Berger of Bergerwerke.com was used in the 2014 movie 'The Monuments Men'.
US Army use of civilian bicycles in WW2
In an effort to help Uncle Sam conserve rubber, gasoline and oil, the US Army tried to set the example by using bicycles instead of motor transport whenever possible.
This seems to have been particularly true at the California McClellan Field, where every available bicycle in the region was bought up by Military personnel and by thousands of civilian war workers right after Pearl Harbor.
The pictures below all illustrate the use of both Army issue and civilian bikes by Military personnel during WW2...
'Saluting the CO...'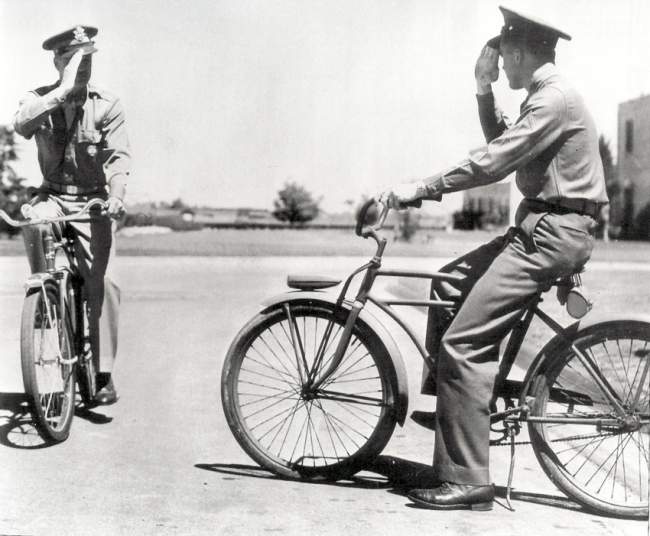 US Army Signal Corps Picture
Private Lewis Hites salutes his Commanding Officer Colonel John M Clark at McCellan Field, Sacramento, California in 1942.
The front sprocket and chain guard of the bike ridden by Pte Hites identify it as a Huffman. The kick stand is different than the standard model and the tool bag is clearly visible.
Colonel Clark's bike is a civilian model of the era.
'Ride to Work...'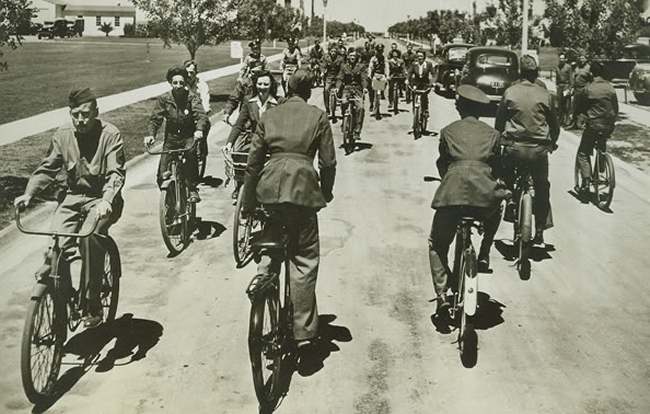 US Army Signal Corps Picture
Officers, Enlisted Men and civilian employees ride their bikes to posts and to their work at McCellan Field, Sacramento, California on May 7th, 1942.
Note the mix of official US Army bikes on the left and various civilian models ridden even by Military personnel.
'Aircrew Transport...'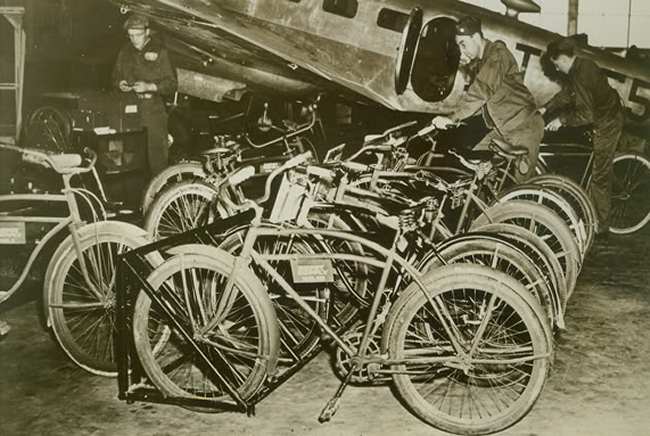 US Army Signal Corps Picture
Civilian bicycles are parked in their racks, purposely placed near planes being serviced, by the crews that own them at McCellan Field, Sacramento, California on May 7th, 1942.
All bikes seem to be civilian models; some have a sign added to the frame.

Private photo from Robert Snow

'Air Force Band...'

Cpl Ed Hillman poses on a civilian model bicycle at an Army Camp in the US before shipping out as a gunner to the Pacific.
Cpl Hillman was part of the Base Army Air Force Band and the bike is marked as such!

The bike was pressed into military service and looking at the chrome finish which appears under the paint on the handlebars, it seemed it was painted OD...

It's safe to assume some civilian bicycles were used around camps and bases, especially stateside.
In Europe the USAAF was issued British made bikes and many GI's obtained a bicycle of their own for use on and off base....
Many civilian bikes were used on airfields and military bases, and some were even painted OD, but they are still civilian bikes and not as rare as genuine Army contract bikes of WW2.
The real thing ???? Or not????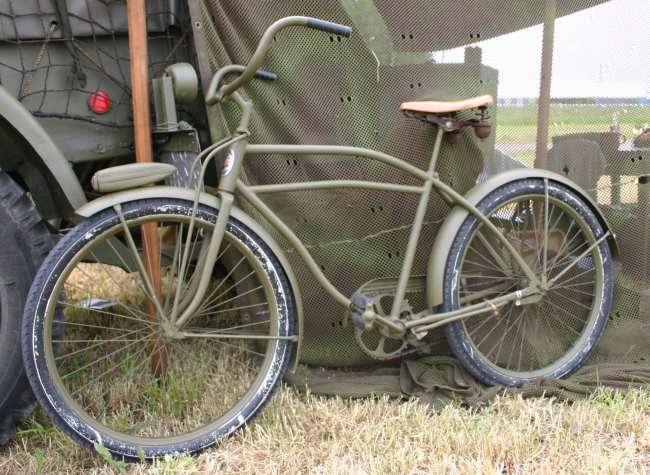 The Columbia shown above was spotted in Normandy during the 2006 D-Day Commemorations. While it looks good at first sight, it is NOT a genuine US Army WW2 issue bike! This is however what most Columbia's look like at Military Vehicle shows.
This is a typical example of a militarized 40's or 50's bicycle. Only the headlight, handlebars and chain guard are identical to the correct WW2 parts. Frame, rims, axles, spokes, seat, fenders, crank set, brake and forks are all different from the real thing....
A very quick way to determine if the frame could be correct US Army Specs is by looking at the head badge. Until 1946 Columbia's, including the US Army models, had head badges attached with the screws on the left and right hand side (horizontally). After 1946 the badges were attached by a top and lower screw (vertically) and frames with this feature are most likely post WW2 and hence not military...
Note how the black paint is wearing off the whitewall tires....
The civilian bike on which this USAAF member poses clearly shows how the military bicycles were based on existing models of the wartime era.
The similarities of frame, fenders, rims and sprockets are obvious.
This particular bike is equipped with springer type front forks and the frame has an added 'fuel tank' between the upper tubes, a common accessory.
John Dickerman has identified it as a 1940-41 Schwinn Model DX with rare front brake and foxtails.

These bicycles are still very common and rather inexpensive. A lot of these are restored to military trim to appear as an original Army bike, which of course they are not....


Webmaster's Collection Photo
Surviving Examples
Westfield Columbia Serial# MG145375
One of the few surviving Columbia's in Europe is displayed in the Airborne Museum of Sainte-Mère-Eglise, Normandy, France where it sits under the wings of the C47 aircraft. MG145375 was left behind during WW2 and ended up with a local farmer who used it well into the 1970's before donating it to the local museum where it underwent complete restoration...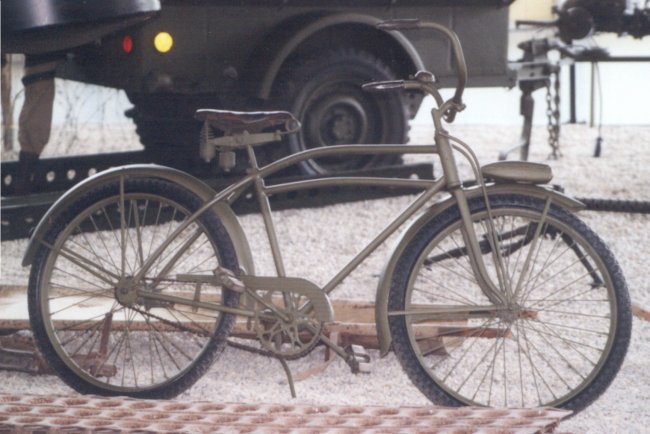 MG145375 at Ste-Mère-Eglise. Again note the second type of front sprocket.....
French farmer Seraphin François holding Westfield Columbia MG145375 which he rode daily until he donated it to the Ste-Mère-Eglise Airborne Museum on October 15th, 1975....

The bike is in a remarkable original condition and is amongst the finest US Army WW2 bicycles in Europe...


Webmaster's Collection Photo
1943 Huffman Serial# H127317
'A 1943 Huffy with a complete history.....'

During WW2, T5 Chester Earl Wright was stationed at an Army Engineer Post near Cairo, Egypt and used a Huffman US Army bicycle around the post.

On the picture shown right, Cpl Wright wears the 'US Army Forces in the Middle East' shoulder patch.

The bicycle has some special features.
A Guide Reflector with most likely an amber lens which was common on US Army trucks was added for better night-time and even day-time safety during times of windy conditions when dust and sand was blowing around.
The bike is equipped with two bells...
A British Army Bicycle Tool Bag as shown below on my British bike is attached with three leather straps to the frame. US and British troops were both stationed in Egypt during WW2, so a mix of equipment is not surprising.

This picture was taken around 1944-1945.


Webmaster's Collection Photo via
Bill Strong
During WW2, Chester Wright somehow obtained this particular bicycle from the US Army, but at first did not bring the bike home with him at the end of the war. Apparently Chester was returned state-side due to emergency medical reasons. His son Clyde is not sure what the exact condition was only that due to Chester's quick return to the states he was not able to take his Huffman and other personal items with him. It was assumed that these items were left in the hands of trusted persons/person to await future return.
After returning to the States and his subsequent recovery Chester wrote and sent through military channels a number of letters requesting that his Huffman be sent to him. Clyde said he remembered seeing the original reply from the Army in which they wrote that the Huffman had been located and was ready to be shipped. Chester's Huffman was returned to him as well as a trunk of personal items, which included his crafting beads.
The bike remained with the Wright family for nearly 60 years and after Chester's death, his son Clyde put it on Ebay at the end of 2004.
The bike had remained in very original condition, but at one point had been painted a yellow zinc chromate primer. Although it cannot be seen in the photo Chester attached what appears to be an additional metal and rubber apparatus around the open side of the rear brake hub dust cover. This item is held in place by a single very small screw and appears to function as a further barrier for internal brake parts to the dust, dirt and sand that was always present in Egypt Clyde said his father was very good at working with his hands and would mention on occasion about all the dust/dirt and sand. In 2007 this apparent dust prevention device was still on the bike although the rubber portion was quite deteriorated.
Pedals had been replaced with postwar examples but the original pedals were included as was the Shoulder Sleeve Insignia Chester Wright had worn during WW2.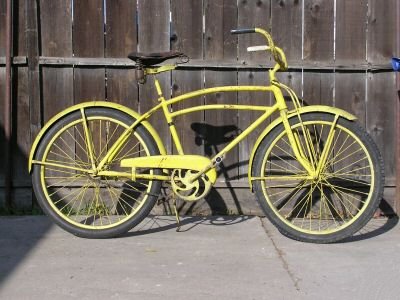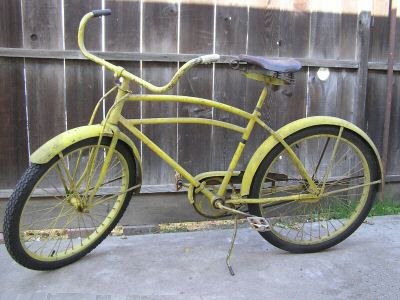 2004 Ebay Auction Photos
On December 12th, 2004, the auction was won by John Gray. He repainted the bike with an olive drab rustoleum paint and added an NOS Delta Winner Headlight to the front fender. The original headlight had been trashed years before after batteries leaked acid. John also added a set of original handlebar grips and acquired the original tool bag and pump from the Wright family.
In September 2007, John Gray sold the bike to the current owner, Bill Strong, who decided to restore the Huffy to its former glory.
Bill spraypainted the bike with Rapco #33070 Early WWII Lusterless Olive Drab and fitted original NOS WWII period U.S. Royal Master tires as the front tire in the WW2 picture appears to be of this type.
He installed the original Torrington #8 wood block pedals after repairing the left side pedal using parts from an NOS torrington #8 pedal.
During WW2 the bike was equipped with two bells, so he installed original Bevins handlebar bells to match the two bell set-up used by T/5 Wright in Egypt.
The original Persons tool pouch was attached to the saddle using reproduction straps after treating the seat and tool pouch with Fiebing's Saddle Soap.
The result is a bike restored to perfection with a full history going back to its WW2 rider....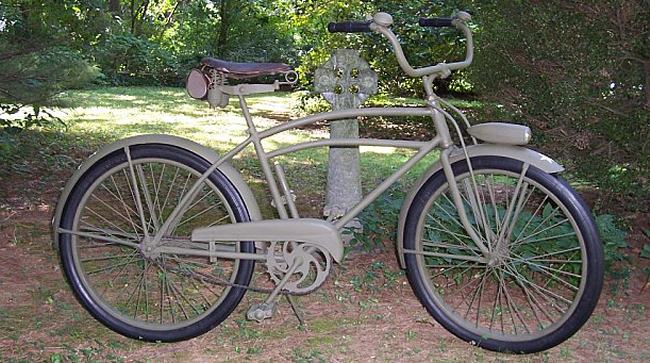 Webmaster's Collection Photo via Bill Strong
White 5-point stars have been painted on the front and rear fender.
These were not originally on the bike.
Westfield Columbia Serial# MG154703
This Women's MG was found in a barn in Wisconsin in 2010.
It was painted red and white and missing the Delta Light, seat leather, correct tires, rear fender reflector, Persons tool bag and pump bracket. The OD bullet grips were there ,but both tips were broken off.

Through the
red paint, original OD with white letters and numbers on the rear fender were visible.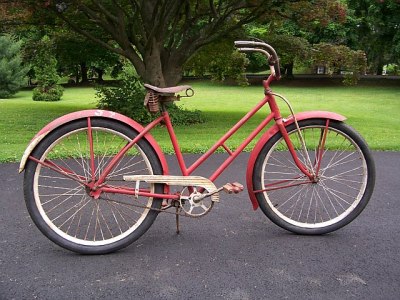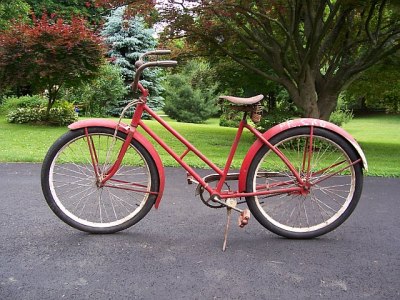 Webmaster's Collection Photos via Bill Strong

The bike was acquired by Bill Strong who restored it back to its original configuration in a two month period.
He
repainted the white markings exactly as they were originally.
The seat leather and padding are the only non- period parts used for the restoration and the result is an ultra-rare bicycle
...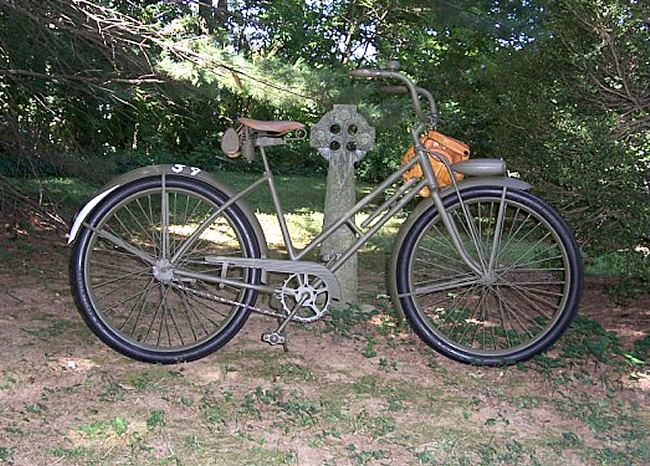 Webmaster's Collection Photo via Bill Strong
My sincere thanks to Bill Strong for sharing the history of both his Huffman and Women's MG!
A European Owned Huffman
Original Huffman military bicycles are extremely rare in Europe.
One of them resides in the collection of Frenchman Jean Georges who kindly provided images of his well preserved example.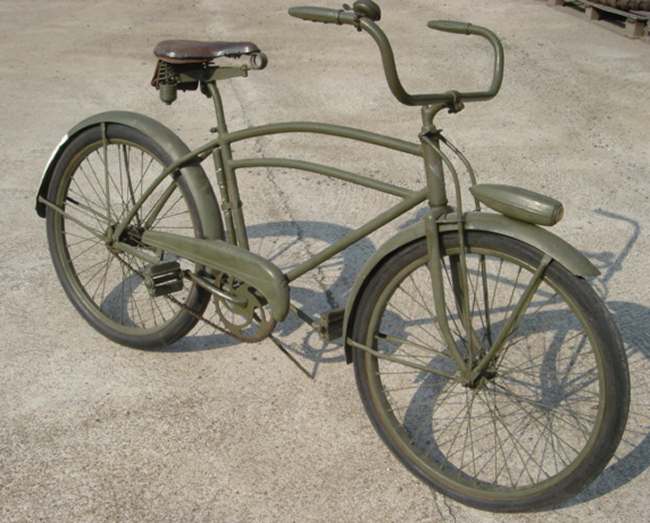 Jean Georges' Huffman with correct roman (rounded) fenders, whirlwind front sprocket and round chain guard. The tool bag and kick stand are not factory issue.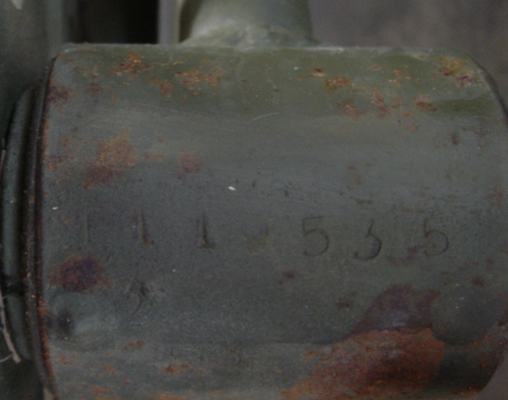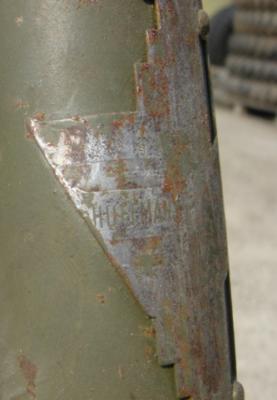 The frame number on the Huffman is barely visible, while some scratching revealed the original Huffman frame head badge....
They are still out there!!!
I spotted this frame at the 2005 Wings & Wheels Show in Ursel, Belgium on August 13th, 2005..... The French owner had it up for sale but after looking at my MG, he decided to keep it for future restoration...... He will have his hands full at it!!.....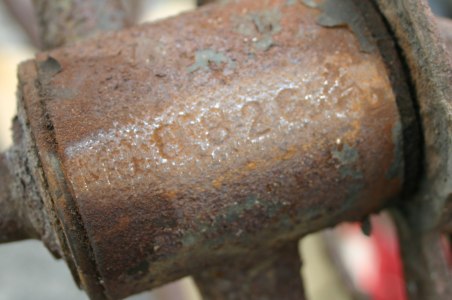 Picked up at a French farmhouse after spending years outside, some minor scratching revealed the frame number MG6826x.....
Westfield Columbia Serial# MG138969
Way back when I was about ten, I got hold of what I thought was a WW2 US Army bicycle frame. It later turned out to be a 1950's Schwinn Cruiser frame bearing only very minor resemblance to standard WW2 military bicycles. After seeing the correct type in 'From Here To Eternity' (see above); I started looking for a correct Westfield Columbia or Huffman manufactured example with certified military use., Since very little information was available about the correct military type, it took me some time to know exactly what I was looking for. In the early 90's I got the chance of looking over several of these bikes and from then on the hunt was on. Since 1996 I have owned several models and have now ended up with the one shown: Westfield Columbia Model MG with Serial# MG 138969. The bike was retrieved from a farmhouse near the Huertgen Forest in 2000 and still had the WW2 markings and color, although too badly pitted to keep it that way. It's great fun to ride and always attracts lots of attention.....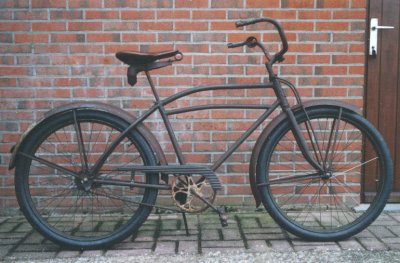 As found..... November 2002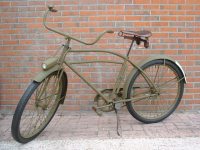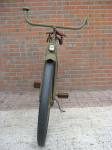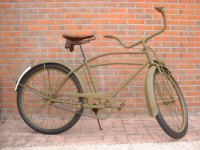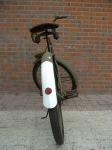 After complete restoration..... Summer of 2003.......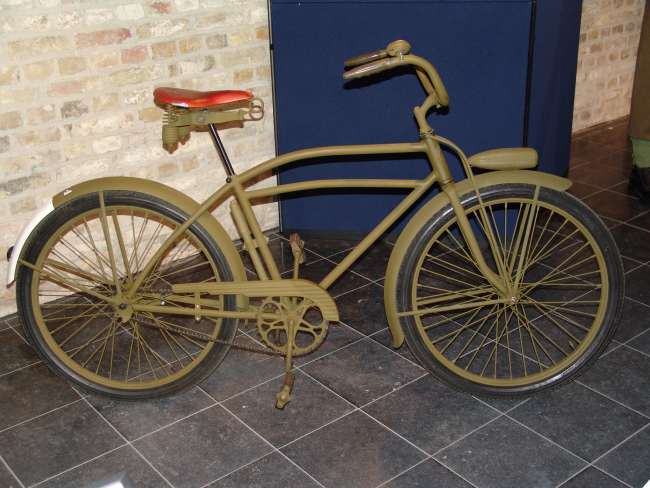 ......and at a military bicycle display in Nieuwpoort, Belgium in February 2005....
The above photograph was taken at the 'War on 2 Wheels' Exhibition which I organized in February and March 2005 in Nieuwpoort, Belgium.
For more images of the bicycles on display, click the logo below....

The Columbia Compax Paratrooper
Folding 'Compax' models (which in fact were collapsible, not folding) were tested by the US Marine Corps but saw no action in Europe in WW2. Although there has been a lot of speculation of the possible use of Compax bicycles in Europe during WW2, there are to date no pictures or records showing the US Airborne troops did actually use them in the ETO. In July 2008, a book was published about the use of these collapsible bikes, but even that did not come up with proof.
Nearly a year before the Japanese attack on Pearl Harbor, the US had started training and expanding their peace time Army by mobilising the National Guard units and preparing them for war. American industries were eager to show they were doing their part and consequently advertisements were published in many of the magazines of the era. The Westfield ad shown below was printed in the November 1941 issue of the 'American Bicyclist'. It is interesting because not only does it show what the standardised US Army bicycle of WW2 would look like; it also mentions the Compax Folding bike being tested by the US Marine Corps. The pictures of the Parachuting Leathernecks with their collapsible bikes were used time and again in different ads and suggested combat use of the Compax. In fact these are the only pictures of US Airborne Troops with Compax bikes........ The Compax was tested during WW2 but it's safe to assume it was not used in combat by the Airborne Troops. Some bicycles may have been purchased locally for use on Army bases though.
After WW2 Columbia offered a civilian version marketed as the 'Paratrooper' bicycle.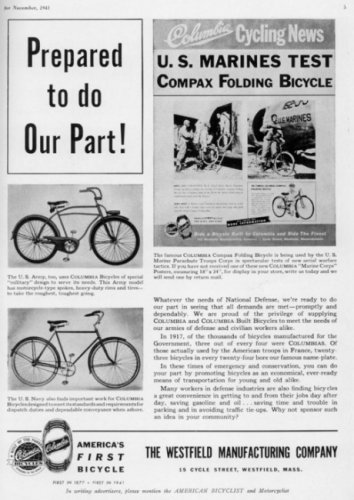 Ad from the Webmaster's Collection

'The Ad that
started the Myth'

By adding parachutes, one of the pictures from the article shown above, is dramatically enhanced and may well have started the myth that the Compax was used on the battlefield during WW2.
The US Marine holding the Thompson SMG only adds to this effect.....

Note the civilian finish on the bike shown in the ad...
'A "WAVE" on a Compax'

Peg Dudley poses on a Columbia Compax folding bicycle at Key West Naval Air Station.
The bike is finished in a glossy paint.

WAVES stood for: 'Women Accepted for Volunteer Emergency Service' and they were part of the US Navy during WW2.


Picture from an unknown source
'A Simplex, not a Compax......'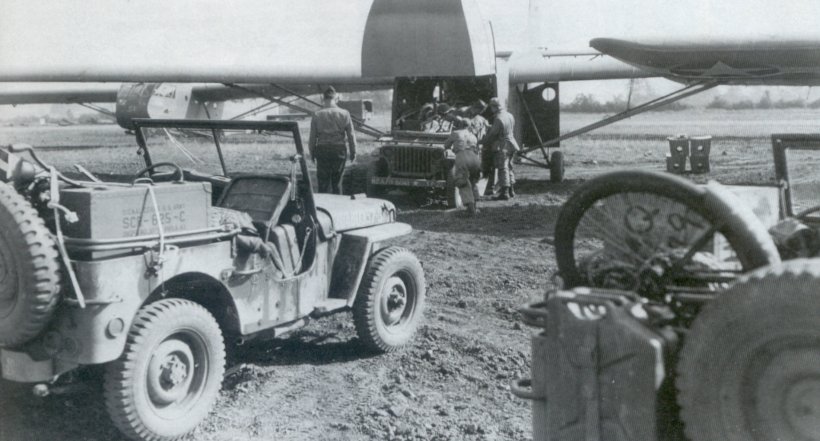 US Army Signal Corps Photo
Although many have claimed to see a Compax 'Paratrooper' bicycle in the back of the Jeep on the right, the springer type front forks clearly indicate it is not a Columbia Compax.
It actually is a Simplex Servicycle. There seems to be another Servicycle in the Jeep on the left where the passenger seat has been tilted forward to make room for the cycle's rear wheel. All vehicles belong to Service Company, 504th Parachute Infantry Regiment of the 82nd Airborne Division and are being loaded into WACO Gliders for the Market Garden jump over Holland in September 1944.
During WW2 Servicycles were used by Medical units of AB Divisions.
Compare the front forks and handlebars of the Servicycle above to the ones shown below.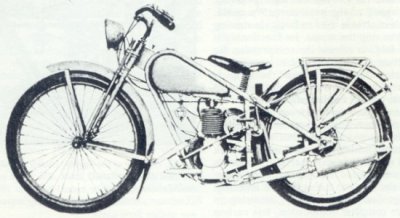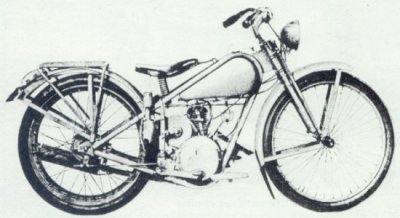 Scans from ORD 9 SNL G-611, dated December 1943

Left and right side views of Bicycle, Motor, Servicycle, Simplex Model G-A-1
'Camp Quorn, England'
1944

Captain Lyle Putman, 2nd Battalion Surgeon of the 505th Parachute Infantry Regiment leans on a Servicyle during training in England in 1944.
The springer type front forks of the Simplex are clearly visible.

(Picture from M. Detrez' Doc McIlvoy Book)
Father Sampson, Chaplain of the 501st Parachute Infantry is shown on a Simplex Servicycle during Operation Market Garden in September 1944.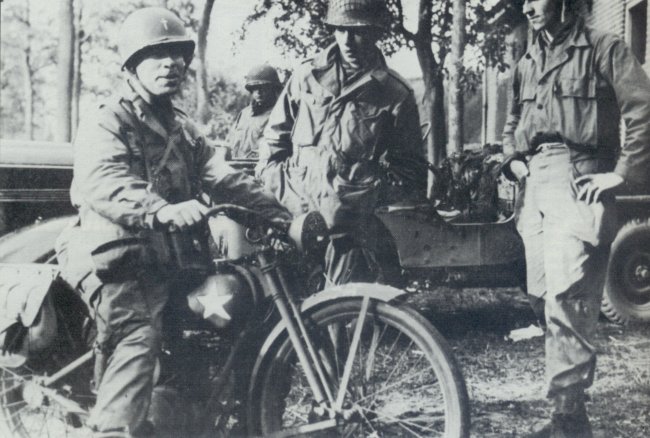 US Army Signal Corps Photo
The Huffman Folding Bicycle
In the beginning of 1943 the US Army again showed its interest in a folding bicycle by ordering folding models from Huffman through Contract N° W 294 ord-2239. The January 1st 1944 List of Administrative and Tactical Vehicles published by the Ordnance Dept shows a 1943 order for 500 Huffman Model 81-81 Folding Bicycles while a tank Automotive Center Tentative Specification drawn up in February 1943 lists them as the Huffman Model HF-777 Folding Bicycle (see below). If these were the same bikes remains unclear and to date only one surviving example is known on display in the Carillon Park Museum in Dayton, OH.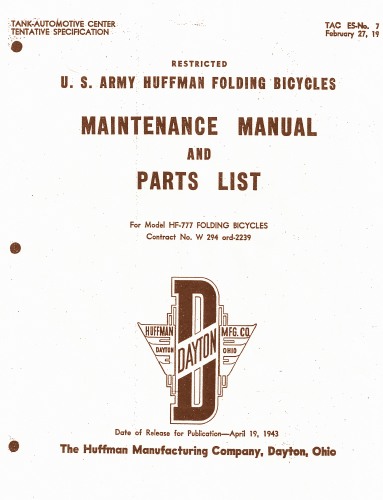 Manual from the Webmaster's Collection via Robert Sroczenski
The only illustration known showing a Huffman HF-777 was discovered in the Columbia Archives by Kenneth Kowal and is shown below. The HF-777 had a folding frame, with 26" wheels and no fenders. The Huffman whirlwind sprocket and crankset was equipped with special pedals and the bike came with short straps to be attached to a slightly modified Army M1928 Haversack.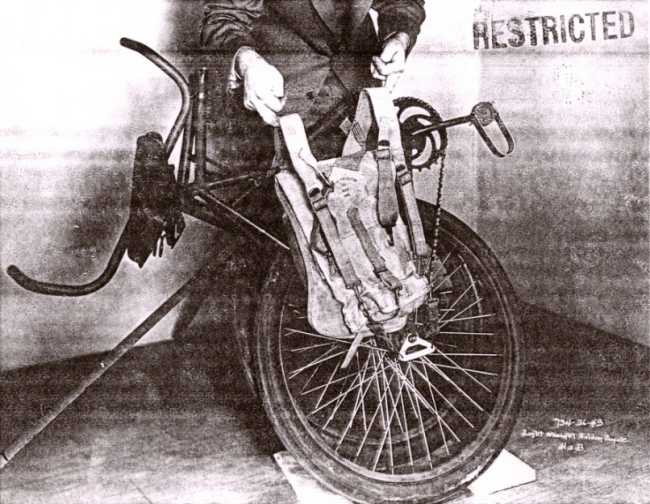 US Army photo via Mr Columbia
Below is the possibly only surviving Huffman HF-777 on display at the Carillon Park museum in Dayton, OH. Note how the handlebars, sprocket and crankset are different from the bicycle in the image above. They are however identical to the ones shown in the manual.

Carillon Park Museum via Tim Robbins
So if indeed 500 of these were produced, where have they all gone ?
British Bicycles used by American Forces in the ETO
British bicycles were used in very large quantities on American airfields in Britain. While some of these bikes were made especially for the US Army Air Forces, a lot of GIs purchased their own bicycle so they could ride them both on and off base...
'Mission Completed'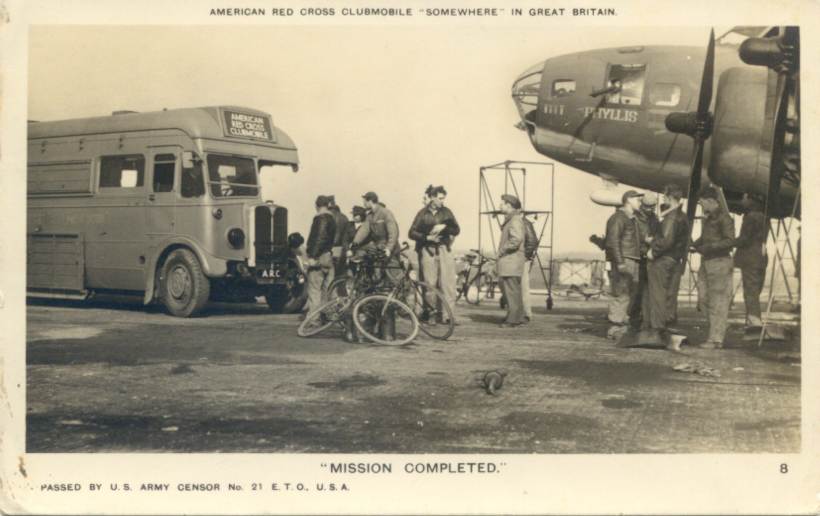 Postcard from the Webmaster's Collection
The above postcard with USAAF airmen relaxing after another bombing mission shows several British bicycles in use on this American airbase. The exact type of bicycles is not really clear. To the left is an American Red Cross Clubmobile converted from a British bus.
This card was sent home by Pfc LEE of the 17th Replacement Control Depot in March 1944.
British Army bikes supplied to the US Army were lent to GIs on leave in Southern France at the US Riviera Recreational Area (USRRA) at the end of the war.
'Cycling at the French Riviera'


These GI's are about to go out on a ride along the French Riviera on British Mk V* bicycles. These bikes were available from the US Riviera Recreational Area in Southern France, located at Nice for Enlisted Men and Cannes for Officers.
The Nice Bicycle Center was open from 0800Hr to 1800Hr.


Photo: ECPA via Militaria Magazine
My British MkV* Bicycle
All items in my collection are of US manufacture or manufactured by foreign contractors for use by the US Army during WW2. But when I was offered this British Army bicycle, I just couldn't resist.
As this bike has two rod operated brakes it is known as the Mark V*; the Mark V having a rear coaster brake. It had served in the Belgian Armed Forces until well into the 90's(!!!!!) when it was acquired and restored by military bicycle enthusiast and good friend, Philip MOREAU. It then went thru a number of collections before ending up in mine in the summer of 2003. The bike is complete, down to the original NOS tool bag, bell and tire pump. The saddle is a Brooks made reproduction, the tires are new.
Philip MOREAU wrote a number of excellent articles on 20th century Army bikes for the French Militaria Magazine and is THE authority on military bicycles in Europe!! He described the Mk V in detail in the March 2003 Issue 212 of the above magazine.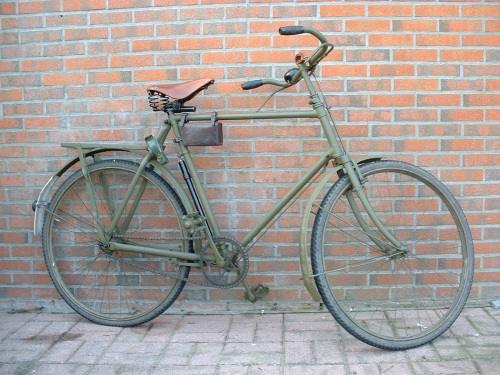 The above described Mark V* bicycle, Frame Number T136102, manufactured in 1944
A Prewar Tricycle
This tricycle probably dates back to the 1930's..... It was bought by my father in 1955 and had already seen considerable use then..... I remember sitting in the front at a very young age with my father driving me around...... It had a 1930 Tax Plate but that was probably an add-on over the years.....
It is now undergoing full restoration....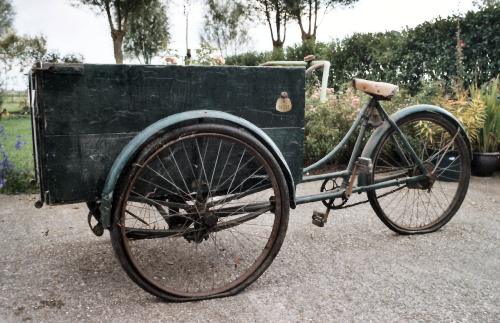 Before disassembly....... August 2002
Tricycles were very popular in Belgium in the middle of the 20th century. They were a handy and inexpensive means of transport. The photograph below, taken in Brussels in 1943, shows a requisitioned Belgian tricycle put to use by the German LuftWaffe (Note the WL marking). Except for the front cargo box, it's very similar to my tricycle.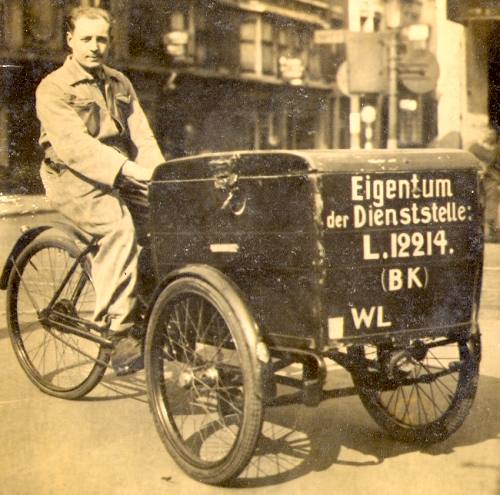 Webmaster's Collection Photo via Philip Moreau
The image below shows T5 Mendoza from B/326AEB/101AB Div using a Dutch Tricycle to transport equipment to a Supply Dump in Veghel, Holland during Operation Market Garden in September 1944. The tricycle is loaded with two A4 Supply Bundles.
Note the Parachute First Aid Packet tied to the helmet.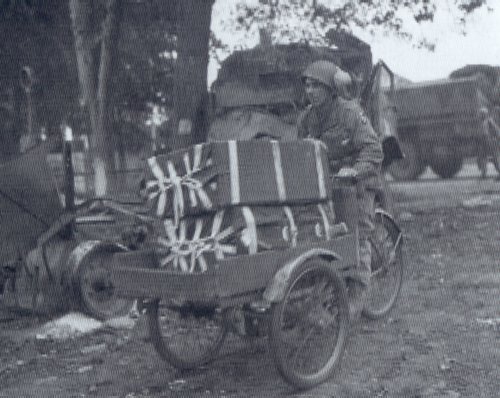 Al Krochka Photo from Mark Bando's 'The 101st AIRBORNE-From Holland to Hitler's Eagle's Nest'
My sincere thanks to Gerald Mlynek from Ohio, USA,
who has been a great source of information about US Army WW2 bicycles!!
Go to the next page for more images of Military Bicycles.....