On this page you will find some information about my other vehicles. I have been a member of the Military Vehicle Preservation Association (MVPA) since 1993 and have attended several of the yearly Conventions. The MVPA is probably the largest Military Vehicle Club in the world and members are spread all over the globe. I have been a technical advisor within the MVPA for several years.
This is how I got interested. Left you see me at the wheel of the jeep used in the movie 'L'Animal' starring Raquel Welsh and JP Belmondo in Paris in May 1977. It is interesting to note that they used a genuine WW2 Jeep and not a French M201. The middle and right picture show me at the age of 12 and were taken by my father at a military vehicle rally in Bastogne, Belgium in August 1978.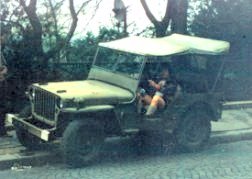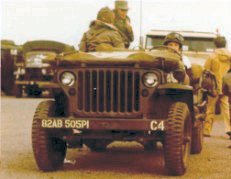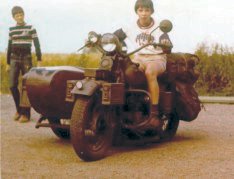 While these images aren't of great quality, they still show how I caught the 'Green Machine Mania'.

GPW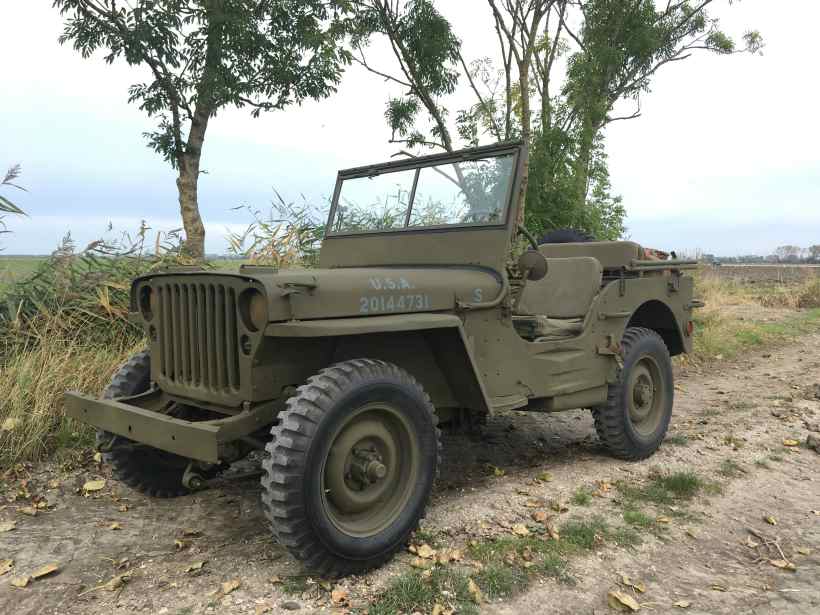 My Ford GPW Jeep (October 2021)
I bought my GPW in September 1983 at the age of 17 (I didn't even have a Driving License at the time). It bore markings of the WW2 French 2nd Armored Division at the time of purchase. These were soon to be painted over and the Jeep now 'belonged' to the 101st AB Div (Yes, 506 PIR, but Band of Brothers wasn't published yet). After a road accident in October 1986, the Jeep was completely rebuilt and marked as a vehicle of the 16th Inf Regt, 1st Inf Div at the time of the Normandy invasion in June 1944.
In the summer of 2011 it was remarked, this time using the obscure yellow tactical markings used by the US Army's 29th Infantry Division from Normandy to the end of the war in Europe in 1945.
Another full nut&bolt restoration bringing it up to todays standards by using correct parts and info was finished in the Spring of 2021. It is now ready for many more miles and smiles....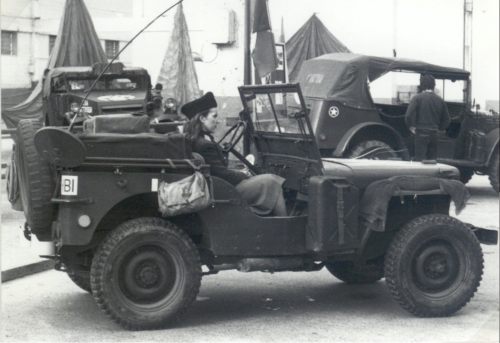 The GPW at Ciney Belgium about a year before I acquired it (October 1982)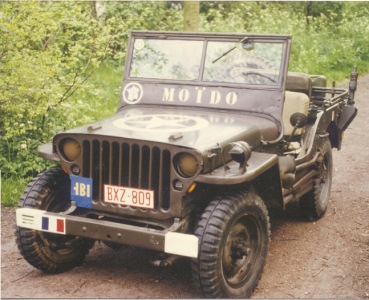 Summer 1984 (left) and July 1985 (right)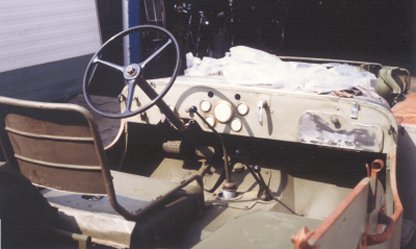 Undergoing first restoration (1986-1989)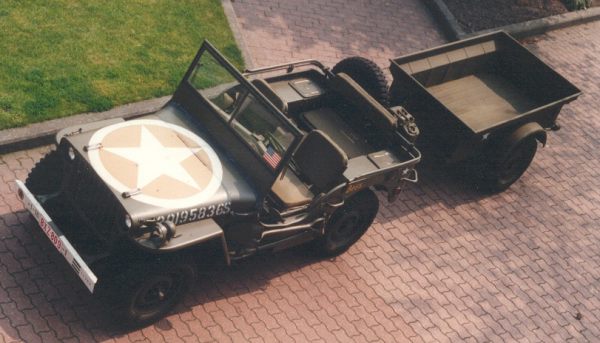 GPW Jeep and Bantam T3 Trailer (Spring 1994)
The image above gives a clear view of the typical 1st Infantry Division vehicle markings prior and during the Normandy landings.
Below is a wartime photograph of Divisional HQ vehicles embarked for Normandy.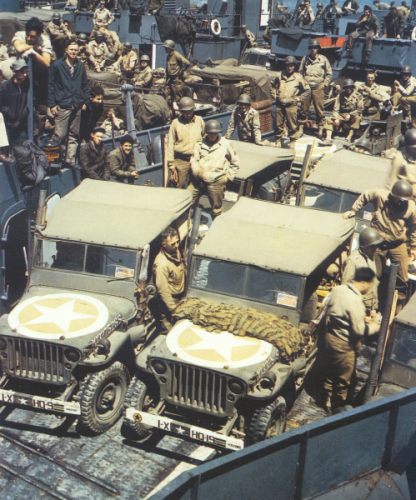 US Army Signal Corps Photo
I took the Jeep to several Vehicle Shows and she went to Normandy in 1984, 1989, 1994 and 1999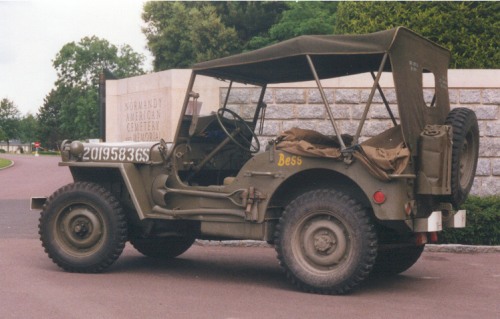 The GPW at the entrance of the Normandy US Military Cemetery ( June 6th, 1999)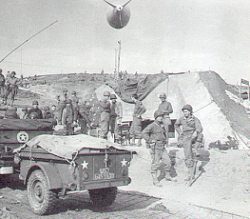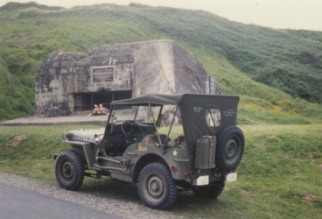 Exit E1 on Omaha-Beach 1944-1994 (Left picture: US Nat Archives)
In the summer of 2011 the markings on the Jeep's bumpers were changed using the Normandy invasion tactical markings of Service Company, 175th Inf Regt of the 29th Infantry Division. Following Army Regulations (AR850-5) the Divisional and Regimental designation was replaced by a a yellow square with all kinds of signs and bars. The markings were based on a 1944 picture taken in Brest, Brittany.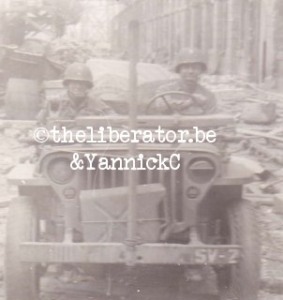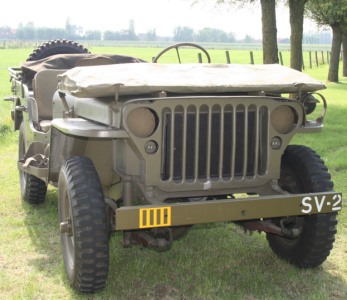 Brest, Brittany, 1944 (left) and September 2011 (right)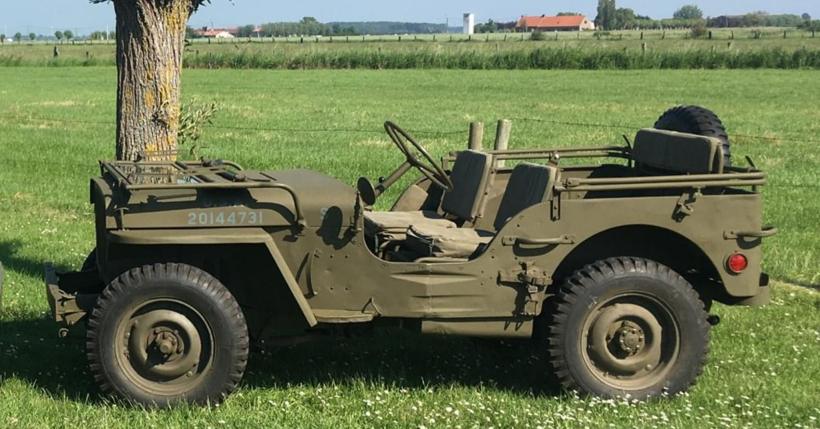 Third restoration just finished (June 2021)
M4 HULL Compass, a rare accessory to any Jeep!!
Once a Jeep is completely rebuilt, the owner usually focuses on gathering the correct tools and equipment to give the vehicle that authentic and complete look. While wrenches, tire pumps etc are fairly common, a rare accessory is the M4 Hull Compass which most collectors know from Ray Cowdery's book 'All American Wonder'. Although not all Jeeps came with one, a Hull Compass mounted on the vehicle looks great and usually starts good conversation. These compasses came in both black and brown bakelite and with different mounting brackets.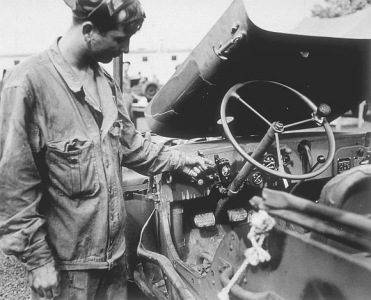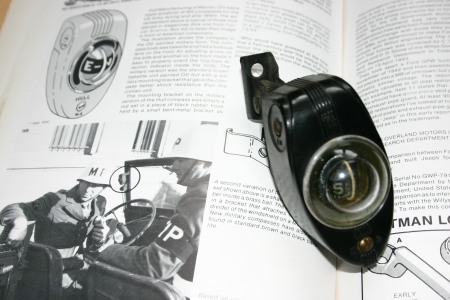 Left photo shows a Hull Compass mounted on the dash of a Jeep while right is a close-up of mine.
It is displayed on AAW Volume 2, Page 212.
Also of interest is the steering knob on the Jeep's steering wheel on the wartime image on the left.
A Matching Jeep Trailer
My Bantam T3 1/4 Ton Trailer was used extensively by the Luxemburg Civil Protection after WW2 and I purchased it from Emile BECKER in November 1993.
It was completely rebuilt in time for the 50th Anniversary of the D-Day Invasion in Normandy in June 1994.
The body of the trailer was made by the American Central Manufacturing Company and upon disassembly, body number 126380 was found on the gusset plate for the left front spring hanger. The original data plate was missing on the trailer; but using verified known numbers from trailers with a body number in the same range a calculated guess about the Date of Delivery and Data Plate Serial Number was made!
The estimated DoD would be January 3rd, 1945, with an estimated Serial Number of 56433, to be stamped on the Data Plate. This would have resulted in a US Army Serial Number U.S.A. 0825615, painted in blue drab color on the rear body panel......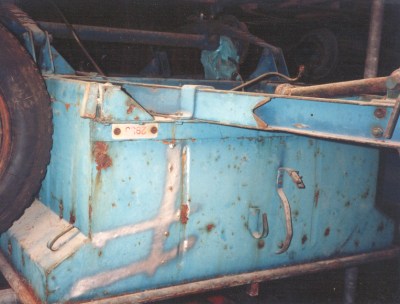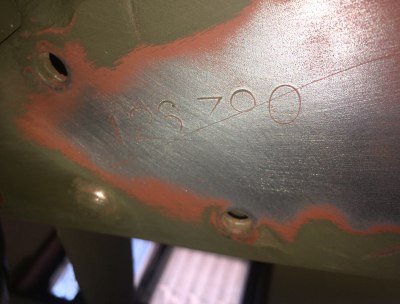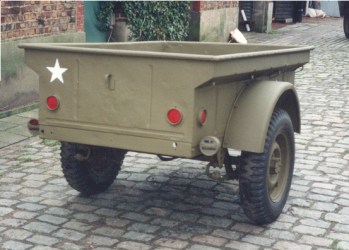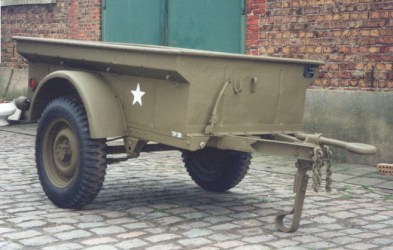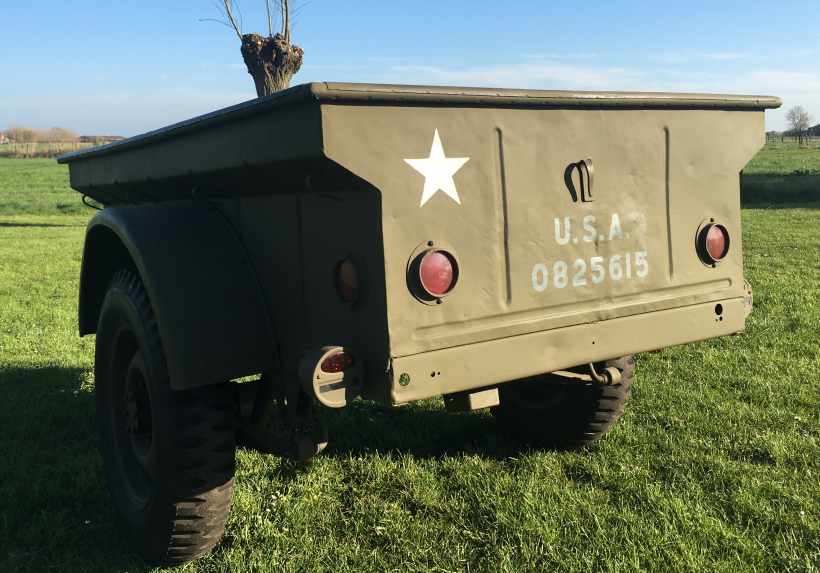 The trailer before and after restoration
Original WW2 Willys MB DataPlate for MB286459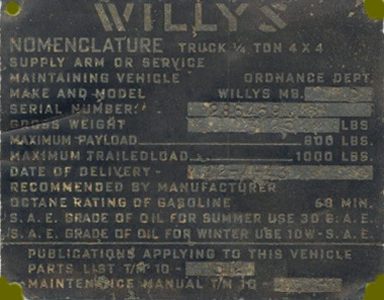 The above plate was issued on Willys MB 286459, as part of Contract W4 in 1943.
This was a standard Jeep manufactured with ACM Type 1 body and all standard trimmings.
I picked this plate up in 1990 and the seller had no further information on what happened to the Jeep, except he said the plate came from the Bulge area....
Although in a poor state, this zinc plate shows us some very interesting information
The Mystery Box is stamped: ORD
Just next to the Serial Number (286459) and Gross Weight (3125) is a faint Ordnance Escutcheon
The Date of Delivery is stamped 12-4-43 (December 4th, 1943)
Parts List T/M 10-1512 and Maintenance Manual T/M 10-1513
US Army Bicycles!!
Way back when I was about ten, I got hold of what I thought was a WW2 US Army bicycle frame. It later turned out to be a 1950's Schwinn style Cruiser frame bearing only very minor resemblance to standard WW2 military bicycles. After seeing the correct type in 'From Here To Eternity' (remember the scene where Pvt Prewitt has to run up a hill in full battle order accompanied by an NCO on a bike?); I started looking for a correct Westfield Columbia or Huffman manufactured example with certified military use., Since very little information was available about the correct military type, it took me some time to know exactly what I was looking for. In the early 90's I got the chance of looking over several of these bikes and from then on the hunt was on. Since 1996 I have owned several models and have now ended up with a family of three: both Women's and Men's 1943 Westfield Columbia Model MG and a 1942 Huffman model...
A separate page about these bikes is available Here!!.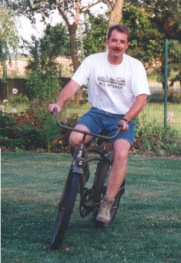 US Army Hand Carts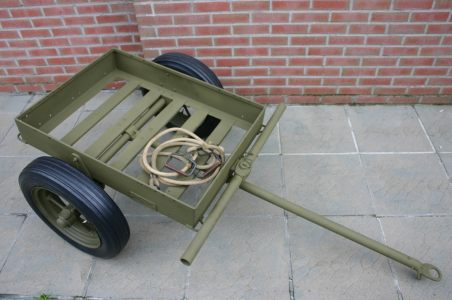 I'd always wanted one of those US Army Hand Carts and after missing out on several deals, I got lucky in 2004 and acquired the above Cart: John Wood M3A4 #17564.
In 2010 I added a 1944 US Army Signal Corps RL-35A Reel Cart to the collection...
Click on the above image to go to the Hand Carts Pages....
June 1944 PostCard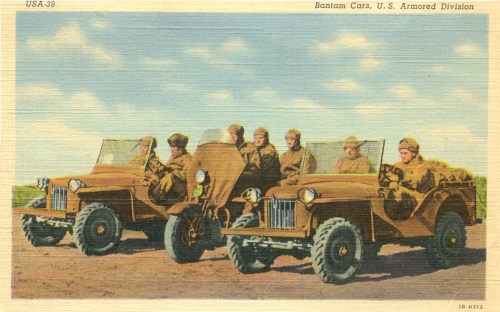 This WW2 Postcard, sent to his Maryland girlfriend by an Engr NCO on June 8th, 1944 shows prototypes of my favorite vehicles. Between two BRC (Bantam Reconnaissance Cars) is an early war Harley-Davidson Three Wheeled Prototype ELA.